Nearsightedness in Children
Optometrists are treating nearsightedness in children in new ways. The interest in finding new treatments for children is a result of ongoing studies showing a link between higher levels of nearsightedness and eye disease. The information below details a new type of contact lens to address nearsightedness in children. Nearsightedness, also know medically as myopia has for many years been treated with eyeglasses and contact lenses. However, recent work has shown that this traditional method may cause myopia to progress even faster. Dr. Abraham Zlatin, O.D. FIAOMC, an optometrist in New York, has been using this new technology for several years. For parents in Westchester or the Upper West Side of New York, you can find a trusted optometrist who specializes in several treatments for nearsightedness in children.
Clinical Research Update of 141 Children Wearing NaturalVue Multifocal Presented At Global Specialty Lens Symposium (GSLS)Data Consistently Shows 90% Decrease in Myopic Progression Refractive Error in a Large SampleFollowed for up to 4 years highlights of the Clinical Research Update.
Updated data with 141 children wearing NaturalVue Multifocal for up to 4 years, demonstrated approximately 90% decrease (1.00 Diopters) in myopic progression refractive error (RE) consistently at each time point examined. Additionally, in a subset of 36children, axial length (AL) progression decreased by 54.8%, a decrease in progression of 0.23mm, at the 12-17 month point Las Vegas, Nevada, 26 January 2019: US-based medical device company and producer of the NaturalVue® (etafilcon A) Multifocal 1 Day Contact Lenses Visioneering Technologies, Inc(ASX: VTI) ('Visioneering' or 'The Company') has presented at the Global Specialty Lens Symposium (GSLS) an update of clinical data of 141children wearing NaturalVue Multifocal and followed for up to 4 years.
Pediatric Myopia, or nearsightedness in children, has undergone explosive growth on a global scale over the past four decades and has become a major worldwide eye health issue. Eye experts generally believe that minimizing the progression of nearsightedness is an important intervention aimed at minimizing the lifetime risks of blindness and other serious ocular diseases that are related to nearsightedness.
Based in part on the clinical research presented at GSLS, Visioneering Technologies, Inc., the makers of NaturalVue® (etafilcon A) Multifocal 1 Day Contact Lenses, believe their product helps to slow the worsening of myopia, and markets the lenses internationally. Previously, multiple eye care practices contributed to a publication of peer-reviewed data showing that NaturalVueMultifocalslowed the progression of nearsightedness by 96% on an annualized basis in a cohort of 32 children.1 Similar data on the second cohort of 27 children were presented at GSLS in 2018.2At GSLS 2019 held this past week, several of the same investigators updated the dataset to include additional children in the retrospective observational case series.
The key investigators included Jeffrey Cooper MS, OD, FAAO, Professor Emeritus SUNY College of Optometry (New York), Brett O'Connor, OD, FAAO (Florida), Thomas Aller, OD, FBCLA, Visiting Scholar, University of California, School of Optometry (California) and Sally M. Dillehay, OD, EdD, FAAO (Georgia). Other practitioners involved with the expanded cohort data included Ronald Watanabe, OD (Massachusetts), Nadine Eisenberg, OD (New York), Hal Ostrom, OD, FIAO (Connecticut), Jeff Jeruss, OD, FIAO (Georgia), and Amber Zaunbrecher, OD (Georgia).The updated data include 141children (meanage12.38 ± 3.18 years) being followed for 6 to48 months(mean 18.5 +11.6 months).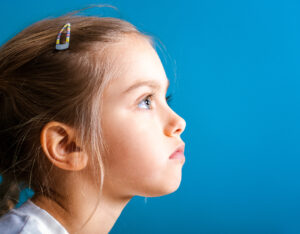 The data were very consistent each time point, demonstrating approximately 90% decrease (1.00 Diopters, D) in myopic progression, as compared to the rate of progression prior to wearing NaturalVueMultifocal (0.90D (84.1%) at 12-17M; 0.97D (90.7%) at 24-29M; 1.04D (97.2%) at 36-41M; 0.99D (92.5%) at 48M). All timepoints were statistically significantly different from baseline (p < 0.00001). Within a subset of 36 children, axial length was measured. Axial length change from baseline averaged 0.19 +0.17 mm at 12-17M (p < 0.005, a 0.23mm (55%) reduction as compared to a similar group of children from the same practice).
The investigators reported that their patients indicated few or no complaints of visual or comfort issues, that nearly all of the children continued wearing the lenses, and there were no adverse events. The consistency of the decreased myopia progression reported in this data set reflects the potential of NaturalVue Multifocal 1Day contact lenses in slowing the progression of myopia in children. Continuing this research will further substantiate these findings, and add to the body of knowledge for myopia progression control. Visioneering CEO Stephen Snowdy, Ph.D., said: "We'd like to thank the investigators and their teams for their continuing efforts and passion in the fight to address myopia progression in children.
The 90% effectiveness shown in these most recent longer-term data for NaturalVue Multifocalis very encouraging, especially when combined with the excellent vision experienced by the children wearing our lenses. The prevalence and severity of myopia have been increasing at a rapid rate in nearly all industrialized nations, with some Asian nations having 90 or more percent of their children affected by myopia. Our goal is to expand the availability of NaturalVue Multifocal globally and to minimize the amount of myopia progression in as many children as possible.
Cooper, J, O'Connor, B, Watanabe, R, Fuerst, R, Berger, S, Eisenberg, N, & Dillehay, SM. Case Series Analysis of Myopic Progression Control With a Unique Extended Depth of Focus Multifocal Contact Lens. Eye & Contact Lens. 44(5):e16-e24, September 20182O'Connor, B, Jeruss J, Aller T, Dillehay SM. Myopia Management with A Unique Extended Depth of Focus Contact Lens: A Case Series Analysis. Paper presented at Global Specialty Lens Symposia. January 2018.